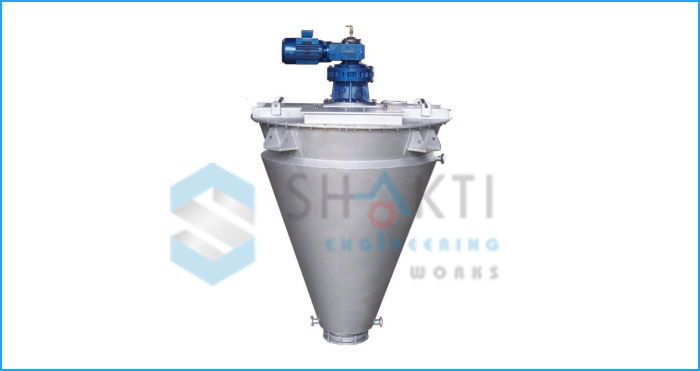 Nauta mixers are used for gentle mixing action at the same time it plays an important role in minimal heat generation without any distortion. This mixer also used for different applications that require high shear mixing; of course, the mixing can be done with the separately driven lump breakers. Nauta mixer only needs less power for the mixing process, so it is ideal. We offer high-quality Nauta mixer for different mixing application. Nauta mixer used in various industries also it is important to produce various products like adhesives, fertilizers, brake lining compounds, cosmetic creams detergents, etc.
Shakti Nauta mixer offers low operative cost than any other types of mixers.
The Nauta mixer is a planetary rotating screw near the wall of cone without end resting of screw. The Nauta mixer is mixes the powders but also breaks the lumps.
Features :-
Higher efficiency achieved compared to horizontal blenders.
Easy addition of liquid. Gentle Mixing achieved.
Low power consumption.
Rotary discharge valves and pneumatic discharge systems employed for faster discharge rate.
Easy to clean. These conical mixers are easily cleanable either in a dry way using special extra-large doors on the vessel or in a wet way using spraying devices.
Optional Features :-
Jacketing Cone for heating and cooling. Vacuumed process.
Different type of mixing stirrer
Application :-
Guar Gum, Agro Chemical, Pigments, Pharmaceutical, Nutraceuticals, Detergent, Food & salt , Starch and Cellulose, Minerals & etc.
Machine size & Moc Available :-
5 litter to 10,000 liters Capacity
Drive - 1 hp to 50 hp
Direct Gear Drive, Counter Gear for load reduction