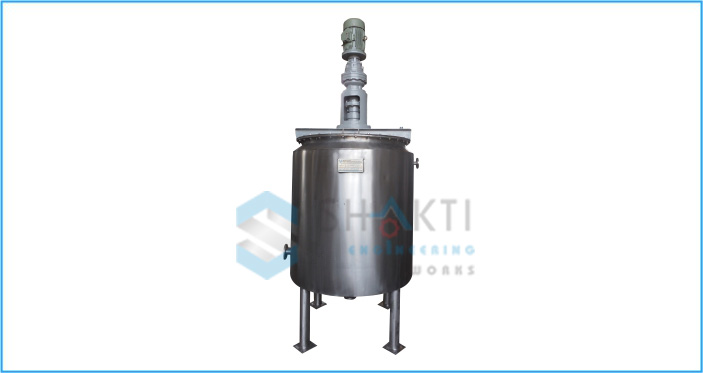 We are engaged in manufacturing and supplying Stirrer Vessel. The interior and jacket of the vessel are precisely designed to ensure that the flow circulation of the heating fluid in the jacket is unvarying. This vessel is available with us in different sizes and specifications suited to the different demands of the clients.
Specifications :-
Shakti has been designed & manufacturing preparation vessels, Reactor and storage tank and has consolidated a process as customer needs.Product Contact AISI 304l &316L.
Atmospheric, Vacuum or Pressure Operation.Plain, Jacket for heating & cooling.
Option for Heating by steam, hot water or thermic fluid oil & Electric heater. Thermal Insulated.
Mechanicals or Electro polishing of internal surface. Sterilizing In Place-SIP as an Option.
Variable Speed Agitation :-
Agitator can be top or bottom driven or magnetically driven.
Propeller type, Anchor type provided with High speed disperser or rotor-stator homogenizer.
Single or double mechanical seal.
Turn Key Process Line :-
For production, filtration, transfer and storage solution.
Pre reparation vessels. Inline homogenizer.
Inter Connecting Pipe, Solid or sugar Charging System
Automation For Appropriate For The Intended Process Function, Including Cip & Sip :-
Controls of all function by PLC Controls with HMI Touch screen.
Level controls by means of capacitance probe or electronic load cells.
Digital indication and controls of all process parameters for Process time, agitator speed, temperature, pressure & level.
Model size is Available :-
500 ltrs to 20,000 ltrs (Drive HP as per design)