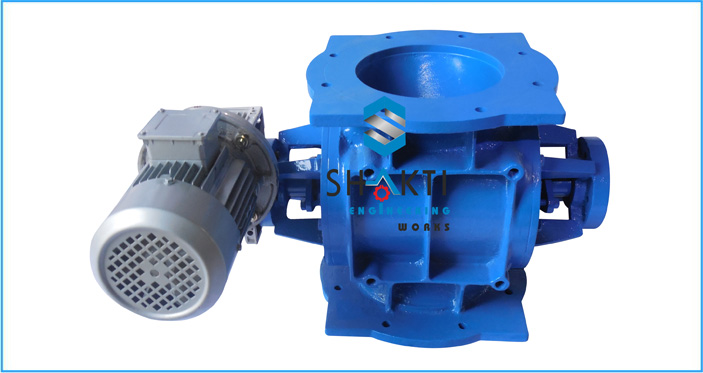 Our organization is extremely engaged in the work of manufacturing a high range of Rotary Airlock Valve which is widely used for dust discharge device. It's continues discharging function make it more preferable other than similar products available in the market. These products are prepared by following gyro principle so that it can provide high degree of separation. These products are specially designed by our expert team to provide excellence airlock sealing. Its design is unique, gas leak free and capable of bearing maximum temperature & pressure. Our organization offers these rotary airlock valves in different sizes ranging from 150 mm to 600 mm as per customer's requirement with unique & customized solutions. By considering different industrial need and their work process, we offer our machine with different speed range. These types of valves are used in various industries for different purpose such as solid gas separation and solid metering applications.
Features :-
Rotary Airlock Valve suitable for controlled discharging and feeding of powdery or granular materials from silos, hoppers, pneumatic conveying systems, bag filter houses, or cyclones.
This is applied to discharge granulator/powder material or add granulator/powder material either in different positive air pressure or in different negative air-pressure of pneumatic conveying system.
Rotor shape can be designed specially according to buyer's request.
Minimum gap between blade and body can lock the air efficiently.
The driving method can be adjusted easily according to different requirement.
Application :-
Food, Pharma, Chemical, Minerals, Guar Gum, Starch, Cellulose Pigment Colors - Minerals & Ores - Chemicals Technical Products Dyestuffs - Fertilizer - Insecticides – Pesticides& etc.
Material :-
C.I, FC, Aluminum, M.S, Stainless steel& Customer requirement
Machine size Available :-
6" NB to 40" NB
Technical Specification :-
| | | | |
| --- | --- | --- | --- |
| Model | Rotor OD | Flange ID | HP Motor |
| SRAV 100 | 100 | 100 | 0.5 HP |
| SRAV 150 | 150 | 150 | 0.5 HP |
| SRAV 200 | 200 | 200 | 1.0 HP |
| SRAV 250 | 250/300 | 250 | 1.0 HP |
| SRAV 300 | 300/350 | 300 | 1.5 HP |
| SRAV 350 | 350/400 | 350 | 2.0 HP |
| SRAV 400 | 400/450 | 400 | 3.00 HP |
| SRAV 500 | 500/550 | 500 | 3 /5 HP |
| SRAV 600 | 600/650 | 600 | 5 / 7.5 HP |