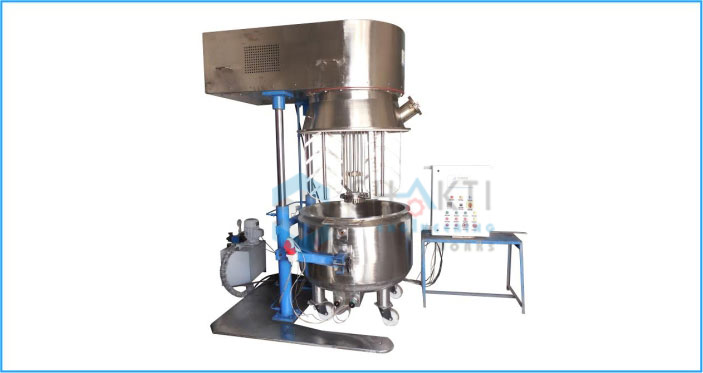 Specifications :-
We manufacture and export Planetary Mixer used in various industries such as Food, Chemical, Paint, Agriculture etc. these mixers are based on the principle of the rotation of the planetary blades. These mixers are available in different capacities and design. Planetary Mixer is used gear transmission to drive two impellers rotating in the same directions, producing the interactive kneading, twisting and dispersing effects. This mixer is tested on various parameters to check its quality to ensure its long working life. Our user friendly machine is easy to use and operate. Our low cost and time consuming mixers are available in different verity. Planetary mixer has great function of blending, shearing and dispersing, which suits well in dispersing and blending of materials in solid to solid, solid to liquid, liquid to liquid. Planetary mixer is widely used in chemical, food processing, drug producing, construction materials and light industries. Meanwhile, it also fits for cosmetic, ink, chocolate, sealing adhesive, adhesive, ointment, paste materials etc.
Design Features :-
Design compliance with GMP. Available model 5 Liter to 600 Liter working Capacity.
Materials :-
Product Contact AISI 304L & 316L. Food Grade silicon rubber for seal
Vessel design :-
Jacket for heating & cooling. Vacuum process.
Vessel Inside Pressure (2 Bar), Heating Jacket Pressure (6 bar)
Heating by steam or hot water circulation. Direct cooling with water.
Temperature controller & safety pressure Valve. Bottom discharge with valve.
Agitator mixer & scrapper:-
Mixing flow top to bottom in vertical axis.
Planetary rotating elements. Option for Single, double & triple agitator.
Teflon scrappers with blade. RPM sleeplessly with variable speed drive.
High speed Homogenizer ( Optional) :-
Top drive homogenizer. Toothed Rotor - stator type.
Homogenizer mounted on lower position in the center of vessel.