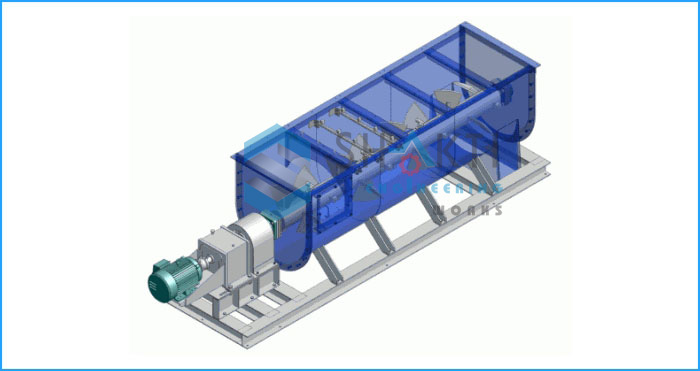 The Continuous paddle mixer highly used for different mixing application. Continuous paddle mixer is one of the most efficient choices than others because it takes an important role in the mixing process. The paddle shafts also incorporated in the machine that offers better results even this mixer also come with adjustable angle of inclination matters. It is the durable mixer which is mainly used for powder mixing, granulation and sludge neutralization along with conditioning of ash, dust, and mud. We design this mixer with unique technology, so it is easy to operate. The capacity of mixing the material also changes based on the material infused. It is ideal for heavy duty mixing.
Features:-
In a Continuous Mixing Process several materials get transported to the mixer either volumetrically or gravimetrically added to its inlet. The requirements on the mixer is to mix all the ingredients in a short time as they are conveyed and mixed during their way from the inlet to the outlet.
Tools as ploughshares or paddles
Mechanical fluidization, mixing in a 3-dimensional way
Sigma Mixers Blades are machined to keep minimum equal gap between through walls and blades.
100% of the product in the mixer is in motion at the same time.
Perfectly mixed and blended with the highest precision in a short time.
Possible chopper implemented mixing
Optional liquid addition wands or spray nozzles
Adjustable weir to have influence on the filling ratio
Temperature jacket available