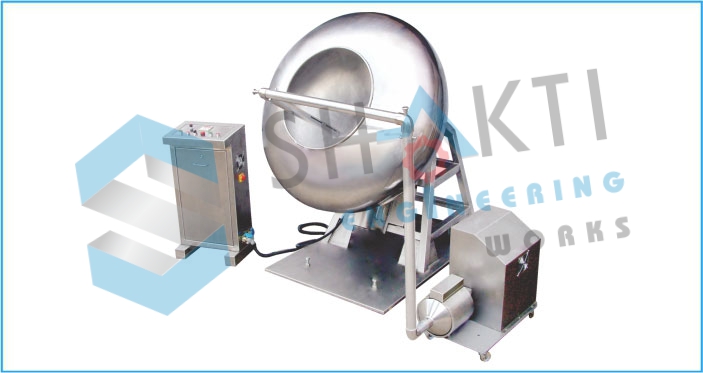 We are the highly experienced and reliable experts who have specialized skills and knowledge to provide cost efficient and most reliable products to our esteemed clients. We offer an extensive range of durable coating machines. Each and every coating machine is made by our skilled experts in conformity with the popular industry laid norms as well as standard. We make our coating machines in various size specifications based on the precise requirements of our customers. Our specially designed coating machines have lots of unique features such as robust construction, smooth performance, and dimensional accuracy. Apart from that, our quality coating machine is easy to fix or install.
Specifications & features :-
Coating Machine is made of Four major parts. Pan, Hot air Blower, Control Panel, Structure.
Noiseless and maintenance free machine.
Easy dismantling and cleaning of contact parts.
Contraction :-
MS, SS 304L, SS 316L Material & as customer requirement.
Model size is available :-
| | | | | | | | | |
| --- | --- | --- | --- | --- | --- | --- | --- | --- |
| Size | 12 Inch | 18 Inch | 30 Inch | 36 Inch | 42 Inch | 48 Inch | 60 Inch | 72 Inch |
| Capacity in Kg | 8 | 15 | 45 | 80 | 100 | 150 | 210 | 275 kg |
| Motor HP | 0.5 | 1.0 | 1.5 | 1.5 | 2.0 | 2.0 | 5.0 | 7.5 |
| Blower HP | 0.33 | 0.33 | 0.33 | 0.33 | 1.0 | 1.0 | 1.50 | 2.0 |
| Heater Capacity | 1.5 kw | 1.5 kw | 1.5 kw | 1.5 kw | 1.0 | 1.0 | 3.0 kw | 5.0 kw |